{"id":5053906878596,"title":"Tyre Repair Liquid Patch Instant Fibre Based Puncture Sealant 1 x 1000ml LP1","handle":"tyre-repair-liquid-patch-instant-fibre-based-puncture-sealant-1-x-500ml-lp500","description":"\u003cspan\u003eLiquid Patch is a fibre based puncture sealant, which immediately and permanently protects both tube and tubeless tyres against punctures in the tread area up to 6mm (1\/4\") in diameter. The repair occurs while you are driving and is permanent. Liquid Patch is also environmentally friendly, non flammable and non hazardous.\u003c\/span\u003e \u003c!-- split --\u003e \u003c!-- TABS --\u003e\n\u003ch5\u003eProduct Description\u003c\/h5\u003e\n\u003col\u003e\n\u003cli\u003e\u003cspan\u003eLiquid Patch repairs punctures from the inside out. \u003c\/span\u003e\u003c\/li\u003e\n\u003cli\u003e\u003cspan\u003eWhen a tyre is punctured, escaping air forces the sealant to the puncture site and repairs the leak creating a Liquid Patch. \u003c\/span\u003e\u003c\/li\u003e\n\u003cli\u003e\u003cspan\u003eSome of the liquid will go through the hole to the outside of the tyre. \u003c\/span\u003e\u003c\/li\u003e\n\u003cli\u003e\n\u003cspan\u003eWhen Liquid Patch is exposed to air, it dries and causes a permanent seal.\u003c\/span\u003e\u003cbr\u003e\n\u003c\/li\u003e\n\u003c\/ol\u003e\n\u003cbr\u003e\u003cimg alt=\"\" data-cke-saved-src=\"https:\/\/img.auctiva.com\/imgdata\/1\/7\/1\/4\/7\/4\/9\/webimg\/839776615_o.jpg\" src=\"https:\/\/img.auctiva.com\/imgdata\/1\/7\/1\/4\/7\/4\/9\/webimg\/839776615_o.jpg\" style=\"font-size: 1.4em;\"\u003e\u003cbr\u003e\n\u003cp\u003e\u003cspan\u003eInstructions:\u003c\/span\u003e\u003c\/p\u003e\n\u003cul\u003e\n\u003cli\u003e\u003cspan\u003ePosition tyre so the tyre valve is in the 4 or 8 o'clock position\u003c\/span\u003e\u003c\/li\u003e\n\u003cli\u003e\u003cspan\u003ePull the cap on the bottle upwards to expose the filler tube\u003c\/span\u003e\u003c\/li\u003e\n\u003cli\u003e\u003cspan\u003eRemove tap from bottle as it contains a built in valve removing tool\u003c\/span\u003e\u003c\/li\u003e\n\u003cli\u003e\u003cspan\u003eRemove rubber valve cap from tyre\u003c\/span\u003e\u003c\/li\u003e\n\u003cli\u003e\u003cspan\u003eSimply fit valve remover over exposed valve core then turn anti clockwise until tyre begins to deflate\u003c\/span\u003e\u003c\/li\u003e\n\u003cli\u003e\u003cspan\u003eOnce the tyre is fully deflated place filler tube over valve opening and squeeze contents into tyre\u003c\/span\u003e\u003c\/li\u003e\n\u003cli\u003e\u003cspan\u003eReplace valve core and re-tighten with valve tool\u003c\/span\u003e\u003c\/li\u003e\n\u003cli\u003e\u003cspan\u003eRe-Inflate tyre to recommended pressure and rotate several times to evenly spread contents​​​​​​​\u003c\/span\u003e\u003c\/li\u003e\n\u003c\/ul\u003e\n\u003cp\u003e\u003cspan\u003e\u003cstrong\u003eApplication Formula:\u003c\/strong\u003e\u003c\/span\u003e\u003c\/p\u003e\n\u003cp\u003e\u003cspan\u003eMeasure the height of the tyre and the width across the face of the tread and multiply as follows - H X W X .5ml\u003c\/span\u003e\u003c\/p\u003e\n\u003cp\u003e\u003cspan\u003e\u003cstrong\u003eApplication Amount Per Tyre:\u003c\/strong\u003e\u003c\/span\u003e\u003c\/p\u003e\n\u003cul\u003e\n\u003cli\u003e\u003cspan\u003eB.M.X. = 100ML\u003c\/span\u003e\u003c\/li\u003e\n\u003cli\u003e\u003cspan\u003eMountain Bike = 125ml\u003c\/span\u003e\u003c\/li\u003e\n\u003cli\u003e\u003cspan\u003eGolf Cart = 125ml\u003c\/span\u003e\u003c\/li\u003e\n\u003cli\u003e\u003cspan\u003eWheel Chairs = 125ml\u003c\/span\u003e\u003c\/li\u003e\n\u003cli\u003e\u003cspan\u003eRide on Mower = 250ml\u003c\/span\u003e\u003c\/li\u003e\n\u003cli\u003e\u003cspan\u003eTrail Bike = 250ml\u003c\/span\u003e\u003c\/li\u003e\n\u003cli\u003e\u003cspan\u003eMobility Scooter = 250ml\u003c\/span\u003e\u003c\/li\u003e\n\u003cli\u003e\u003cspan\u003eWheel Barrow = 250ml\u003c\/span\u003e\u003c\/li\u003e\n\u003cli\u003e\u003cspan\u003eFarm Trailer = 250ml\u003c\/span\u003e\u003c\/li\u003e\n\u003cli\u003e\u003cspan\u003eAutomotive \u0026amp; Trailer = 500ml\u003c\/span\u003e\u003c\/li\u003e\n\u003cli\u003e\u003cspan\u003eOff Road 4WD = 750ml\u003c\/span\u003e\u003c\/li\u003e\n\u003cli\u003e\u003cspan\u003eTrucks Vans = 1000ml\u003c\/span\u003e\u003c\/li\u003e\n\u003c\/ul\u003e\n\u003cp\u003e\u003cspan\u003eWhat are the applications for Liquid Patch?\u003c\/span\u003e\u003c\/p\u003e\n\u003cul\u003e\n\u003cli\u003e\u003cspan\u003eCars\u003c\/span\u003e\u003c\/li\u003e\n\u003cli\u003e\u003cspan\u003e4WD's\u003c\/span\u003e\u003c\/li\u003e\n\u003cli\u003e\u003cspan\u003eTrucks\u003c\/span\u003e\u003c\/li\u003e\n\u003cli\u003e\u003cspan\u003eTrailers\u003c\/span\u003e\u003c\/li\u003e\n\u003cli\u003e\u003cspan\u003ePush Bikes\u003c\/span\u003e\u003c\/li\u003e\n\u003cli\u003e\u003cspan\u003eMotor Bikes\u003c\/span\u003e\u003c\/li\u003e\n\u003cli\u003e\u003cspan\u003eCaravans\u003c\/span\u003e\u003c\/li\u003e\n\u003cli\u003e\u003cspan\u003eWheel Chairs\u003c\/span\u003e\u003c\/li\u003e\n\u003cli\u003e\u003cspan\u003eRide On Mowers\u003c\/span\u003e\u003c\/li\u003e\n\u003cli\u003e\u003cspan\u003eGolf Carts\u003c\/span\u003e\u003c\/li\u003e\n\u003cli\u003e\u003cspan\u003eFarm Equipment\u003c\/span\u003e\u003c\/li\u003e\n\u003c\/ul\u003e","published_at":"2020-08-12T19:49:31+10:00","created_at":"2020-08-12T19:49:31+10:00","vendor":"HAIGH","type":"","tags":["Tyre Accessories"],"price":4150,"price_min":4150,"price_max":4150,"available":true,"price_varies":false,"compare_at_price":null,"compare_at_price_min":0,"compare_at_price_max":0,"compare_at_price_varies":false,"variants":[{"id":34181819760772,"title":"Default Title","option1":"Default Title","option2":null,"option3":null,"sku":"LP1","requires_shipping":true,"taxable":true,"featured_image":null,"available":true,"name":"Tyre Repair Liquid Patch Instant Fibre Based Puncture Sealant 1 x 1000ml LP1","public_title":null,"options":["Default Title"],"price":4150,"weight":1200,"compare_at_price":null,"inventory_management":"shopify","barcode":"9331888000020","requires_selling_plan":false,"selling_plan_allocations":[]}],"images":["\/\/cdn.shopify.com\/s\/files\/1\/0344\/8586\/2532\/products\/LP1ltr.jpg?v=1602980990","\/\/cdn.shopify.com\/s\/files\/1\/0344\/8586\/2532\/products\/LPLiquidPatch_c9687be6-3fbe-4f43-b874-917616c71de0.jpg?v=1602980990","\/\/cdn.shopify.com\/s\/files\/1\/0344\/8586\/2532\/products\/LP3_e7455092-d8ad-4ec2-b3e9-b2852e872b6d.jpg?v=1602980990","\/\/cdn.shopify.com\/s\/files\/1\/0344\/8586\/2532\/products\/LP1_15fc2a4e-bf1a-4281-93bc-6972fe288c56.jpg?v=1602980990","\/\/cdn.shopify.com\/s\/files\/1\/0344\/8586\/2532\/products\/LP4_2a229091-768d-489f-b20a-c1c54cfc8703.jpg?v=1602980990","\/\/cdn.shopify.com\/s\/files\/1\/0344\/8586\/2532\/products\/LP250A_021620a2-1585-4693-95d3-b54e74801ca5.jpg?v=1602980990","\/\/cdn.shopify.com\/s\/files\/1\/0344\/8586\/2532\/products\/LP250PHOTO_017eb527-861e-47dd-a5f8-caa743de15c8.jpg?v=1602980990","\/\/cdn.shopify.com\/s\/files\/1\/0344\/8586\/2532\/products\/LP.jpg?v=1602980990"],"featured_image":"\/\/cdn.shopify.com\/s\/files\/1\/0344\/8586\/2532\/products\/LP1ltr.jpg?v=1602980990","options":["Title"],"media":[{"alt":null,"id":9064753987716,"position":1,"preview_image":{"aspect_ratio":0.5,"height":800,"width":400,"src":"https:\/\/cdn.shopify.com\/s\/files\/1\/0344\/8586\/2532\/products\/LP1ltr.jpg?v=1602980990"},"aspect_ratio":0.5,"height":800,"media_type":"image","src":"https:\/\/cdn.shopify.com\/s\/files\/1\/0344\/8586\/2532\/products\/LP1ltr.jpg?v=1602980990","width":400},{"alt":null,"id":8806708215940,"position":2,"preview_image":{"aspect_ratio":1.224,"height":469,"width":574,"src":"https:\/\/cdn.shopify.com\/s\/files\/1\/0344\/8586\/2532\/products\/LPLiquidPatch_c9687be6-3fbe-4f43-b874-917616c71de0.jpg?v=1602980990"},"aspect_ratio":1.224,"height":469,"media_type":"image","src":"https:\/\/cdn.shopify.com\/s\/files\/1\/0344\/8586\/2532\/products\/LPLiquidPatch_c9687be6-3fbe-4f43-b874-917616c71de0.jpg?v=1602980990","width":574},{"alt":null,"id":8806708281476,"position":3,"preview_image":{"aspect_ratio":0.473,"height":622,"width":294,"src":"https:\/\/cdn.shopify.com\/s\/files\/1\/0344\/8586\/2532\/products\/LP3_e7455092-d8ad-4ec2-b3e9-b2852e872b6d.jpg?v=1602980990"},"aspect_ratio":0.473,"height":622,"media_type":"image","src":"https:\/\/cdn.shopify.com\/s\/files\/1\/0344\/8586\/2532\/products\/LP3_e7455092-d8ad-4ec2-b3e9-b2852e872b6d.jpg?v=1602980990","width":294},{"alt":null,"id":8806708314244,"position":4,"preview_image":{"aspect_ratio":3.773,"height":233,"width":879,"src":"https:\/\/cdn.shopify.com\/s\/files\/1\/0344\/8586\/2532\/products\/LP1_15fc2a4e-bf1a-4281-93bc-6972fe288c56.jpg?v=1602980990"},"aspect_ratio":3.773,"height":233,"media_type":"image","src":"https:\/\/cdn.shopify.com\/s\/files\/1\/0344\/8586\/2532\/products\/LP1_15fc2a4e-bf1a-4281-93bc-6972fe288c56.jpg?v=1602980990","width":879},{"alt":null,"id":8806708347012,"position":5,"preview_image":{"aspect_ratio":1.194,"height":469,"width":560,"src":"https:\/\/cdn.shopify.com\/s\/files\/1\/0344\/8586\/2532\/products\/LP4_2a229091-768d-489f-b20a-c1c54cfc8703.jpg?v=1602980990"},"aspect_ratio":1.194,"height":469,"media_type":"image","src":"https:\/\/cdn.shopify.com\/s\/files\/1\/0344\/8586\/2532\/products\/LP4_2a229091-768d-489f-b20a-c1c54cfc8703.jpg?v=1602980990","width":560},{"alt":null,"id":8806708379780,"position":6,"preview_image":{"aspect_ratio":3.04,"height":201,"width":611,"src":"https:\/\/cdn.shopify.com\/s\/files\/1\/0344\/8586\/2532\/products\/LP250A_021620a2-1585-4693-95d3-b54e74801ca5.jpg?v=1602980990"},"aspect_ratio":3.04,"height":201,"media_type":"image","src":"https:\/\/cdn.shopify.com\/s\/files\/1\/0344\/8586\/2532\/products\/LP250A_021620a2-1585-4693-95d3-b54e74801ca5.jpg?v=1602980990","width":611},{"alt":null,"id":8806708412548,"position":7,"preview_image":{"aspect_ratio":1.37,"height":503,"width":689,"src":"https:\/\/cdn.shopify.com\/s\/files\/1\/0344\/8586\/2532\/products\/LP250PHOTO_017eb527-861e-47dd-a5f8-caa743de15c8.jpg?v=1602980990"},"aspect_ratio":1.37,"height":503,"media_type":"image","src":"https:\/\/cdn.shopify.com\/s\/files\/1\/0344\/8586\/2532\/products\/LP250PHOTO_017eb527-861e-47dd-a5f8-caa743de15c8.jpg?v=1602980990","width":689},{"alt":null,"id":9064753954948,"position":8,"preview_image":{"aspect_ratio":0.563,"height":1066,"width":600,"src":"https:\/\/cdn.shopify.com\/s\/files\/1\/0344\/8586\/2532\/products\/LP.jpg?v=1602980990"},"aspect_ratio":0.563,"height":1066,"media_type":"image","src":"https:\/\/cdn.shopify.com\/s\/files\/1\/0344\/8586\/2532\/products\/LP.jpg?v=1602980990","width":600}],"requires_selling_plan":false,"selling_plan_groups":[],"content":"\u003cspan\u003eLiquid Patch is a fibre based puncture sealant, which immediately and permanently protects both tube and tubeless tyres against punctures in the tread area up to 6mm (1\/4\") in diameter. The repair occurs while you are driving and is permanent. Liquid Patch is also environmentally friendly, non flammable and non hazardous.\u003c\/span\u003e \u003c!-- split --\u003e \u003c!-- TABS --\u003e\n\u003ch5\u003eProduct Description\u003c\/h5\u003e\n\u003col\u003e\n\u003cli\u003e\u003cspan\u003eLiquid Patch repairs punctures from the inside out. \u003c\/span\u003e\u003c\/li\u003e\n\u003cli\u003e\u003cspan\u003eWhen a tyre is punctured, escaping air forces the sealant to the puncture site and repairs the leak creating a Liquid Patch. \u003c\/span\u003e\u003c\/li\u003e\n\u003cli\u003e\u003cspan\u003eSome of the liquid will go through the hole to the outside of the tyre. \u003c\/span\u003e\u003c\/li\u003e\n\u003cli\u003e\n\u003cspan\u003eWhen Liquid Patch is exposed to air, it dries and causes a permanent seal.\u003c\/span\u003e\u003cbr\u003e\n\u003c\/li\u003e\n\u003c\/ol\u003e\n\u003cbr\u003e\u003cimg alt=\"\" data-cke-saved-src=\"https:\/\/img.auctiva.com\/imgdata\/1\/7\/1\/4\/7\/4\/9\/webimg\/839776615_o.jpg\" src=\"https:\/\/img.auctiva.com\/imgdata\/1\/7\/1\/4\/7\/4\/9\/webimg\/839776615_o.jpg\" style=\"font-size: 1.4em;\"\u003e\u003cbr\u003e\n\u003cp\u003e\u003cspan\u003eInstructions:\u003c\/span\u003e\u003c\/p\u003e\n\u003cul\u003e\n\u003cli\u003e\u003cspan\u003ePosition tyre so the tyre valve is in the 4 or 8 o'clock position\u003c\/span\u003e\u003c\/li\u003e\n\u003cli\u003e\u003cspan\u003ePull the cap on the bottle upwards to expose the filler tube\u003c\/span\u003e\u003c\/li\u003e\n\u003cli\u003e\u003cspan\u003eRemove tap from bottle as it contains a built in valve removing tool\u003c\/span\u003e\u003c\/li\u003e\n\u003cli\u003e\u003cspan\u003eRemove rubber valve cap from tyre\u003c\/span\u003e\u003c\/li\u003e\n\u003cli\u003e\u003cspan\u003eSimply fit valve remover over exposed valve core then turn anti clockwise until tyre begins to deflate\u003c\/span\u003e\u003c\/li\u003e\n\u003cli\u003e\u003cspan\u003eOnce the tyre is fully deflated place filler tube over valve opening and squeeze contents into tyre\u003c\/span\u003e\u003c\/li\u003e\n\u003cli\u003e\u003cspan\u003eReplace valve core and re-tighten with valve tool\u003c\/span\u003e\u003c\/li\u003e\n\u003cli\u003e\u003cspan\u003eRe-Inflate tyre to recommended pressure and rotate several times to evenly spread contents​​​​​​​\u003c\/span\u003e\u003c\/li\u003e\n\u003c\/ul\u003e\n\u003cp\u003e\u003cspan\u003e\u003cstrong\u003eApplication Formula:\u003c\/strong\u003e\u003c\/span\u003e\u003c\/p\u003e\n\u003cp\u003e\u003cspan\u003eMeasure the height of the tyre and the width across the face of the tread and multiply as follows - H X W X .5ml\u003c\/span\u003e\u003c\/p\u003e\n\u003cp\u003e\u003cspan\u003e\u003cstrong\u003eApplication Amount Per Tyre:\u003c\/strong\u003e\u003c\/span\u003e\u003c\/p\u003e\n\u003cul\u003e\n\u003cli\u003e\u003cspan\u003eB.M.X. = 100ML\u003c\/span\u003e\u003c\/li\u003e\n\u003cli\u003e\u003cspan\u003eMountain Bike = 125ml\u003c\/span\u003e\u003c\/li\u003e\n\u003cli\u003e\u003cspan\u003eGolf Cart = 125ml\u003c\/span\u003e\u003c\/li\u003e\n\u003cli\u003e\u003cspan\u003eWheel Chairs = 125ml\u003c\/span\u003e\u003c\/li\u003e\n\u003cli\u003e\u003cspan\u003eRide on Mower = 250ml\u003c\/span\u003e\u003c\/li\u003e\n\u003cli\u003e\u003cspan\u003eTrail Bike = 250ml\u003c\/span\u003e\u003c\/li\u003e\n\u003cli\u003e\u003cspan\u003eMobility Scooter = 250ml\u003c\/span\u003e\u003c\/li\u003e\n\u003cli\u003e\u003cspan\u003eWheel Barrow = 250ml\u003c\/span\u003e\u003c\/li\u003e\n\u003cli\u003e\u003cspan\u003eFarm Trailer = 250ml\u003c\/span\u003e\u003c\/li\u003e\n\u003cli\u003e\u003cspan\u003eAutomotive \u0026amp; Trailer = 500ml\u003c\/span\u003e\u003c\/li\u003e\n\u003cli\u003e\u003cspan\u003eOff Road 4WD = 750ml\u003c\/span\u003e\u003c\/li\u003e\n\u003cli\u003e\u003cspan\u003eTrucks Vans = 1000ml\u003c\/span\u003e\u003c\/li\u003e\n\u003c\/ul\u003e\n\u003cp\u003e\u003cspan\u003eWhat are the applications for Liquid Patch?\u003c\/span\u003e\u003c\/p\u003e\n\u003cul\u003e\n\u003cli\u003e\u003cspan\u003eCars\u003c\/span\u003e\u003c\/li\u003e\n\u003cli\u003e\u003cspan\u003e4WD's\u003c\/span\u003e\u003c\/li\u003e\n\u003cli\u003e\u003cspan\u003eTrucks\u003c\/span\u003e\u003c\/li\u003e\n\u003cli\u003e\u003cspan\u003eTrailers\u003c\/span\u003e\u003c\/li\u003e\n\u003cli\u003e\u003cspan\u003ePush Bikes\u003c\/span\u003e\u003c\/li\u003e\n\u003cli\u003e\u003cspan\u003eMotor Bikes\u003c\/span\u003e\u003c\/li\u003e\n\u003cli\u003e\u003cspan\u003eCaravans\u003c\/span\u003e\u003c\/li\u003e\n\u003cli\u003e\u003cspan\u003eWheel Chairs\u003c\/span\u003e\u003c\/li\u003e\n\u003cli\u003e\u003cspan\u003eRide On Mowers\u003c\/span\u003e\u003c\/li\u003e\n\u003cli\u003e\u003cspan\u003eGolf Carts\u003c\/span\u003e\u003c\/li\u003e\n\u003cli\u003e\u003cspan\u003eFarm Equipment\u003c\/span\u003e\u003c\/li\u003e\n\u003c\/ul\u003e"}
Tyre Repair Liquid Patch Instant Fibre Based Puncture Sealant 1 x 1000ml LP1
Tyre Repair Liquid Patch Instant Fibre Based Puncture Sealant 1 x 1000ml LP1
Liquid Patch repairs punctures from the inside out. 

When a tyre is punctured, escaping air forces the sealant to the puncture site and repairs the leak creating a Liquid Patch. 

Some of the liquid will go through the hole to the outside of the tyre. 

When Liquid Patch is exposed to air, it dries and causes a permanent seal.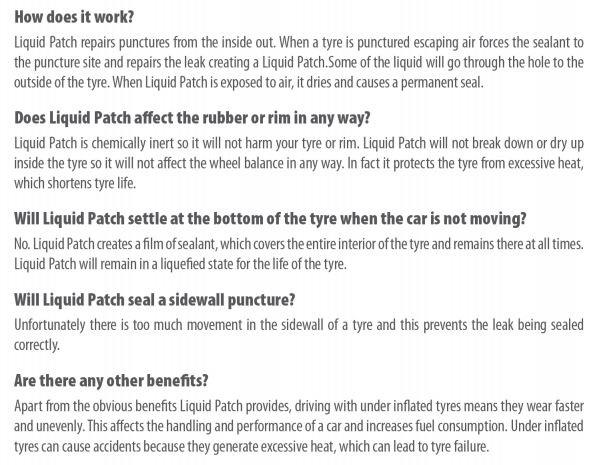 Instructions:
Position tyre so the tyre valve is in the 4 or 8 o'clock position

Pull the cap on the bottle upwards to expose the filler tube

Remove tap from bottle as it contains a built in valve removing tool

Remove rubber valve cap from tyre

Simply fit valve remover over exposed valve core then turn anti clockwise until tyre begins to deflate

Once the tyre is fully deflated place filler tube over valve opening and squeeze contents into tyre

Replace valve core and re-tighten with valve tool

Re-Inflate tyre to recommended pressure and rotate several times to evenly spread contents​​​​​​​
Application Formula:
Measure the height of the tyre and the width across the face of the tread and multiply as follows - H X W X .5ml
Application Amount Per Tyre:
B.M.X. = 100ML

Mountain Bike = 125ml

Golf Cart = 125ml

Wheel Chairs = 125ml

Ride on Mower = 250ml

Trail Bike = 250ml

Mobility Scooter = 250ml

Wheel Barrow = 250ml

Farm Trailer = 250ml

Automotive & Trailer = 500ml

Off Road 4WD = 750ml

Trucks Vans = 1000ml
What are the applications for Liquid Patch?
Cars

4WD's

Trucks

Trailers

Push Bikes

Motor Bikes

Caravans

Wheel Chairs

Ride On Mowers

Golf Carts

Farm Equipment