Choose the right inverter
Choose the right inverter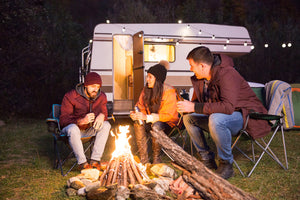 When you're heading off-road to do some serious camping, touring and four-wheel driving, there are many things you should take care of to make sure you have a great trip and arrive home safely. One of the more important things is to make sure you have a good quality power supply system or inverter.
Modern camping is much more than a swag and an esky these days.  Caravan and 4WD trips are a family affair, parents, kids, the dog or the retiree trip around Australia and all their electronic gear. People are taking more and more electronics with them when they travel, creating a greater demand for more reliable power systems.
Running 240V appliances can make your campsite very self sufficient. Inverters allow you to run 240V electrical appliances away from home and even in remote locations by converting the stored direct current (DC) power from your 4WD's battery into alternating power (AC) which is the kind you get from your power points at home.
Choosing  the right inverter to power up all your appliances when you take off in your RV, caravan, 4WD or even your boat is so important to make sure you get what you need.  There are two types of inverters available: modified sine wave and pure sine wave. It's important to know the difference between the two so you can protect your electronic gear. 
A modified sine wave inverter, is a very affordable, all-purpose option which converts DC power to AC power in a square or stepped wave form. The design of the technology used in modified sine wave inverters is relatively simple, which makes it an affordable way to produce AC power. Modified sine wave inverters are perfect for running any power tools you may run out in the bush, or other electronic devices that don't contain complex electronics.
Pure sine wave inverters, use more sophisticated technology to protect even the most sensitive electronics and convert DC power to AC power in a smooth wave form which is both clean and efficient. This type of inverter produces AC power that is free from power spikes and is actually of a better quality than the power which comes from the power points in your house! That means that pure sine wave inverters are perfect for running any devices that include sensitive electronics, such as LCD or plasma TVs, laptops or even digital microwaves, which are all becoming more common sights at camps these days.
Which inverter should you choose? As a general rule of thumb, we recommend you invest in a pure sine wave inverter if you'll be using it regularly and using it to power a range of appliances. A pure sine wave inverter will give peace of mind that your valuable electronic assets will perform as you want them to and won't be damaged.
We've put together a professional range of Quality Brand Name Inverters, and with confidence can say these are the best on the market.  Offering reliability, stability, affordable ultra clean power and nationwide warranty and technical support.
You might only be needing to power a small appliance on a weekend trip, like a mobile phone, well we've got you covered with the Projecta Power Can. Or maybe you want to gear up for a long trip, well we've got you covered there as well with the Sinergex 2000w or Projecta ProWave 1800w and just about everything in between.
To help you work out your power requirements we have included this simple to follow chart.
As always, happy camping, safe touring and enjoy the great outdoors.